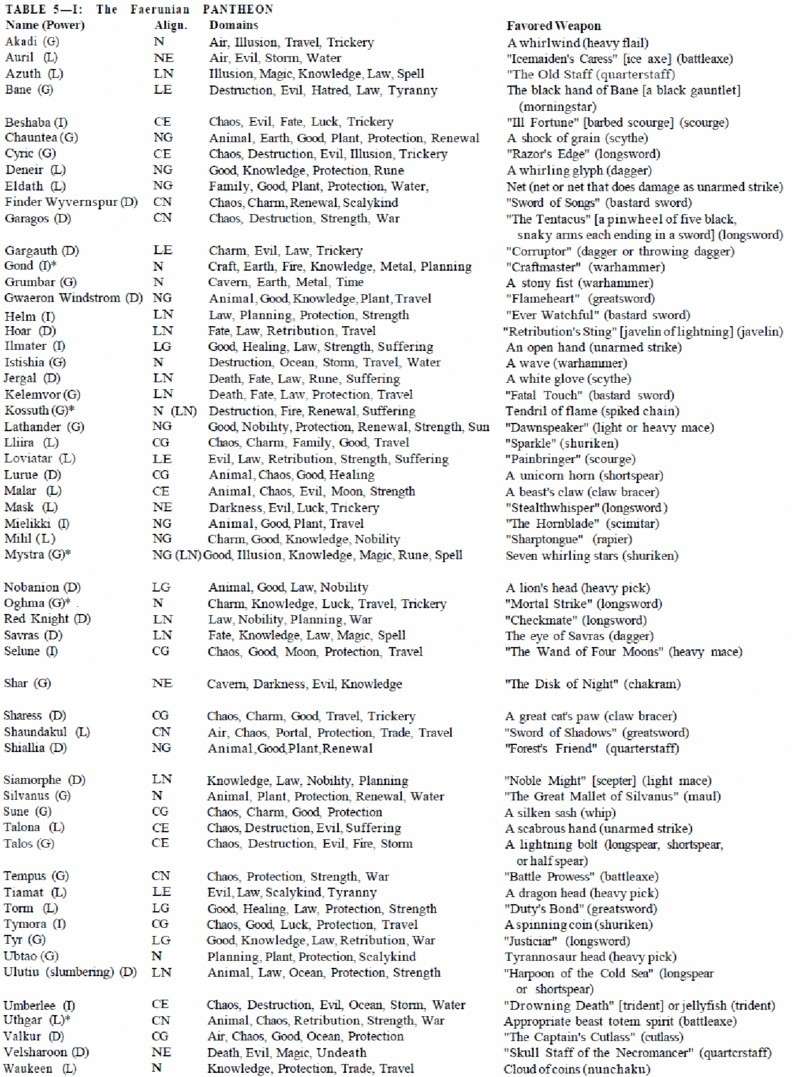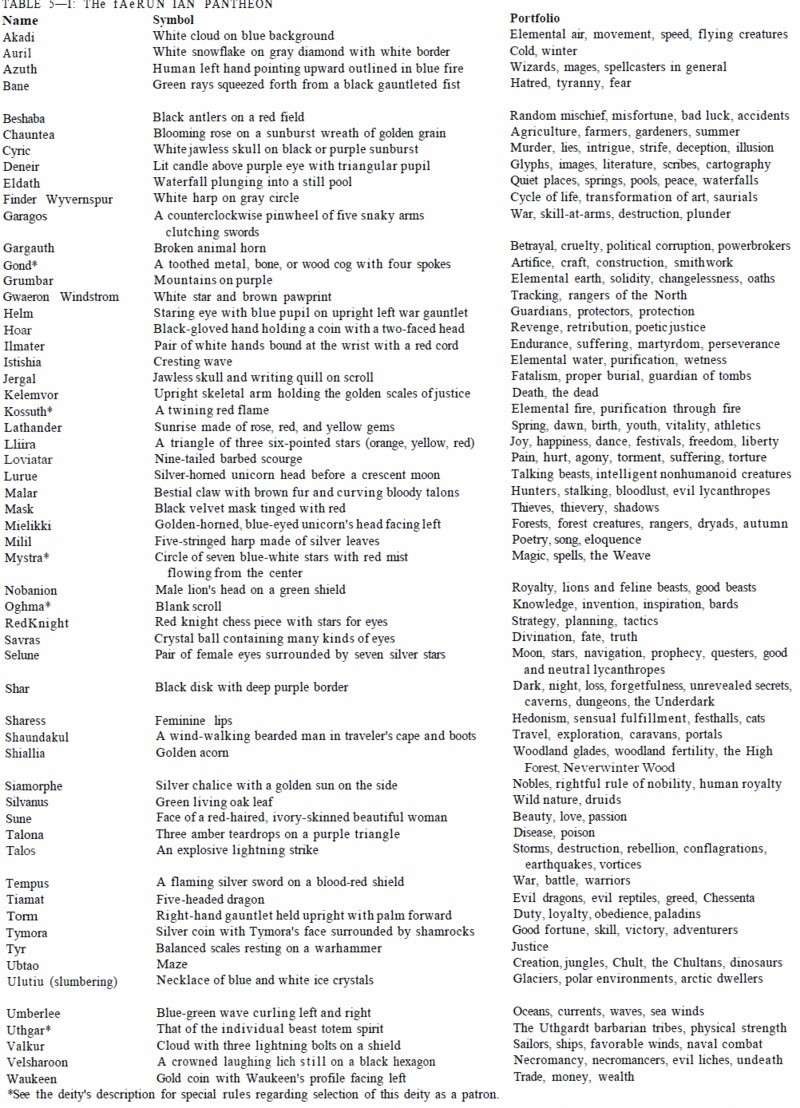 Tempus (Greater God)
Lord of Battles, Foehammer
Symbol: A blazing silver sword on a blood-red shield
Alignment: Chaotic neutral
Portfolio: War, battle, warriors
Domains: Chaos, Protection, Strength, War
Favored Weapon: "Battle Prowess" (battleaxe)
Tempus (tem-pus) is random in his support,
but his chaotic nature ends up favoring all
equally in time. The god of war is liable
to back one army one day and another
one the next. Soldiers of all alignments
pray to him for help in coming battles.
Mighty and honorable in battle, he
answers to his own warrior's code and pursues
no long-lasting alliances. He has never
been known to speak. He uses the spirits of
fallen warriors as intermediaries.
The church of Tempus welcomes worshipers
of all alignments (though its clerics abide by the
normal rules), and its temples are more like walled
military compounds. Tempus's clerics are charged to keep warfare
a thing of rules and respected reputation, minimizing uncontrolled
bloodshed and working to end pointless extended feuding.
They train themselves and others in battle readiness in order to
protect civilization from monsters, and they punish those who
fight dishonorably or with cowardice. Collecting and venerating
the weapons of famous and respected warriors is a common
practice in Tempus's church. Clerics are expected to spill a few
drops of blood (preferably their own or a worthy foe's) every
tenday.
Tempus's clerics pray for spells just before highsun. Most of his
clerics tend to be battle-minded male humans, although others are
welcome. Eves and anniversaries of great battles important to a
local temple are holidays. The Feast of the Moon is the annual day
to honor the dead. Each temple holds a Feast of Heroes at highsun
and a Song of the Fallen at sunset, and most also have a Song of the
Sword ceremony after dark for layfolk. Tempus's clerics usually
multiclass as fighters.
History/Relationships: Tempus arose from the first battle
between Selune and Shar. He sponsored the divinity of the Red
Knight and is casually friendly with Nobanion, Gond, Valkur,
and Uthgar. While he is the opposite of peaceful Eldath, he punishes
those among his faithful who abuse her followers or sites,
perhaps because he thinks that war has little meaning without
peace to contrast it. His only foe is the upstart Garagos.
Dogma: Tempus does not win battles, he helps the deserving
warrior win battles. War is fair in that it oppresses and aids all
equally. It should not be feared, but seen as a natural force, a
storm brought by civilization. Arm all for whom battle is needful,
even foes. Retreat from hopeless fights but never avoid
battle. Slay one foe decisively and halt a battle quickly rather
than rely upon slow attrition. Remember the dead that fell
before you. Disparage no foe and respect all, for valor blazes in
all regardless of age, sex, or race. Tempus looks with favor upon
those that acquit themselves honorably in battle without
resorting to craven tricks. Consider the consequences of the violence
of war, and do not wage war recklessly. The smoothtongued
that avoid all strife wreak more harm than the most
energetic tyrant.
Azuth (Lesser God)
The High One, Patron of Mages, Lord of Spells
Symbol: Human left hand pointing
upward outlined in blue
fire
Alignment: Lawful neutral
Portfolio: Wizards, mages, spellcasters
in general
Domains: Illusion, Magic,
Knowledge, Law,
Spell
Favored Weapon: "The Old Staff"
(quarterstaff)
Azuth (ah-zooth) is the deity of arcane spellcasters,
rather than of magic itself: A somber
father figure of a god, he has a dry, sardonicwit and appreciates subtle humor. He carries the Old Staff, a divine
artifact with the powers of a staff of power and a s t a f f of the magi
and the ability to reflect or absorb magic.
His church embraces the use of magic for constructive purposes
and tries to acquire copies of every spell ever made (sometimes
resorting to spying and temporary theft) so that the loss of a
spellcaster doesn't mean the loss of a unique repertoire of spells.
The Azuthan church also sponsors mage fairs, tries to curb the
use of destructive or deceitful magic, and gives away spell books
and minor magic items to people with the potential to become
spellcasters.
Clerics of Azuth pray for their spells at dusk. The only official
holy day of the church is the celebration of the ascension of a new
Magister; however, meals within a temple are accompanied by the
reading of works on the ethics of magic use and the philosophy of
magic. Many clerics multiclass as sorcerers or wizards.
History/Relationships: Azuth was the first Magister, the mightiest
of mortal wizards. His power was so great that he defeated the
deity Savras in a protracted magical battle that lasted on and off
for years. He finally imprisoned Savras's essence in a staff. Azuth
later rose to divinity with the help of Mystra, and he has been her
servant, friend, and advisor ever since. His subordinates are the
specialized Faerunian deities of magic: Savras, freed from the
staff, and Velsharoon. He is friendly with deities of knowledge, art,
and study, but opposes deities of falsehoods and wanton destruction,
such as Cyric.
Dogma: Reason is the best way to approach magic, and magic
can be examined and reduced to its component parts through
study and meditation. Maintain calm and use caution in your
spellcasting and magic use to avoid making mistakes that even
magic cannot undo. Use the Art wisely, and always be mindful of
when it is best not to use magic. Teach the wielding of magic and
dispense learning items throughout Faerun that the use and
knowledge of magic may spread. Live and teach the idea that with
magical power comes grave responsibility. Learn every new spell
you discover and make a copy for the temple library. Do not
hoard your knowledge, and encourage creativity in magic in all
ways and at all times.
Bane (Greater God)
The Black Lord, the Black Hand, the Lord of Darkness
Symbol: Green rays squeezed forth from a black fist
Alignment: Lawful evil
Portfolio: Hatred, tyranny, fear
Domains: Evil, Destruction, Hatred, Law, Tyranny
Favored Weapon: The black hand of Bane [a black gauntlet]
(morningstar)
Bane (bain) is the ultimate tyrant. He is thoroughly
evil and malicious, and he revels
in hatred and fear. A brooding power,
he rarely shows himself directly, preferring
to plot from within the
shadows and destroy others from
afar. He hopes to control all of
Faerun and dominate or subsume
all other deities, although for now
he is willing to work with some of
them to advance his cause.
Bane's church has stabilized since
the upheaval caused by his recent return,
and almost all that worshiped Xvim now
hold Bane as their patron, with some Cyric worshipers
returning to their old deity as well. Within the church, the
church hierarchy resolves internal disputes through cold and decisive
thought, not rash and uncontrolled behavior. Bane's clerics and worshipers
try to assume positions of power in every realm so that they
can turn the world over to Bane. They work subtly and patiently to
divide the forces of their enemies and elevate themselves and the
church's allies over all others, although they do not fear swift and decisive
violent action to help achieve their aims.
Bane's clerics pray for spells at midnight. They have no calendar-based
holidays, and rituals are held whenever a senior cleric declares it time.
Rites of Bane consist of drumming, chanting, doomful singing, and the
sacrifice of intelligent beings, who are humiliated, tortured, and made to
show fear before their death by flogging, slashing, or crushing.
Clerics of Bane most commonly multiclass as fighters, monks, or blackguards.
History/Relationships: A mortal that gained divinity in a game of
chance with the deity Jergal, Bane was a blight upon the world until
slain by Torm during the Time of Troubles. However, Bane has
returned, erupting from the sentient seed that was Iyachtu Xvim,
his own half-demon son, and retaken his old portfolio, stealing from
Cyric that which was once his. Acquiring fear as part of his portfolio,
he has risen to the level of a greater deity. Bane has renewed his
old alliances with Loviatar, Malar, Mask, and Talona, and hates
most other deities, particularly Helm, Lathander, Mystra, Oghma,
and the deities of the Triad, He has little love for Cyric cither.
Dogma: Serve no one but Bane. Fear him always and make others
fear him even more than you do.
The Black Hand always strikes
down those that stand against it in the end. Defy Bane and die—or in
death find loyalty to him, for he shall compel it. Submit to the word
of Bane as uttered by his ranking clergy, since true power can only be
gained through service to him. Spread the dark fear of Bane. It is the
doom of those who do not follow him to let power slip through their
hands. Those who cross the Black Hand meet their dooms earlier and
more harshly than those who worship other deities.
Chauntea (Greater Goddess)
The Great Mother, the Grain Goddess, Earthmother .
Symbol: Blooming rose on a sunburst wreath of golden
grain
Alignment: Neutral good
Portfolio: Agriculture, plants cultivated by humans,
farmers, gardeners, summer
Domains: Animal, Earth, Good, Plant, Protection,
Renewal
Favored Weapon: A shock of grain (scythe)
Chauntea (chawn-tee-ah) is the humble deity
of all growing things, especially those sowed
by the hand of humankind. She rarely
appears to mortals, nor is she fond
of grand spectacles. She prefers quiet and
small acts of devotion. Venerated by
farmers, gardeners, and common folk,
she is beloved by all that work the soil.
Her church consists of two divisions: those who work in civilized
areas (clerics) and others who watch over outlying and wilderness
regions (most often druids). The two branches of the church are cordial
to each other, but relations are sometimes strained, as the
progress of civilization continues to push the outlying branch farther
afield. Both sides teach others responsibility and respect for
nature, how to prevent damage and disease in plants, and how to
minister to the land so that it provides year after year.
Chauntea's clerics and druids pray for spells at sundown. They have a
fertility festival every Greengrass and observe solemn High Prayers of
the Harvest on whatever day harvesting begins in the local community.
Their few rituals are usually performed on freshly tilled land, and
they say that passing one's wedding night on such a field guarantees fertility
in marriage. Her clerics most often multiclass as rangers or druids.
History/Relationships: Chauntea is allied with the other nature
deities of the Faerunian pantheon, has an intermittent romance
with Lathander, and opposes deities of destruction and untimely
death, particularly the Gods of Fury (Auril, Malar, Talos, and
Umberlee). She is a very old deity, and some consider her to be the
progenitor of the natural races of the world.
Dogma: Growing and reaping are part of the eternal cycle and the most
natural part of life. Destruction for its own sake and leveling without
rebuilding are anathema. Let no day pass in which you have not helped a
living thing flourish. Nurture, tend, and plant wherever possible. Protect
trees and plants, and save their seeds so that what is destroyed can be
replaced. See to the fertility of the earth but let the human womb see to
its own. Eschew fire. Plant a seed or a small plant at least once a tenday.
Cyric (Greater God)
Prince of Lies, the Dark Sun, the Black Sun
Symbol: White jawless skull on
black or purple sunburst
Alignment: Chaotic evil
Portfolio: Murder, lies, intrigue,
strife, deception,
illusion
Domains: Chaos, Destruction, Evil,
Illusion, Trickery
Favored Weapon: "Razor's Edge"
(longsword)
Cyric (seer-ick) is a megalomaniacal deity with an immense following.
One of the four greater powers of evil on Faerun, he is petty and selfcentered,
and enjoys misleading individuals of all inclinations so that
they perform acts that ruin their lives or so that they make fatal mistakes.
He drinks the tears of disillusioned dreamers and broken-hearted
lovers. He is not above an alliance with another deity as long as he
thinks he can betray the other divine power and come out ahead.
Cyric's church is pledged to spread strife and work murder everywhere
in order to make folk worship and fear the Dark Sun. It supports
cruel rulers and indulges in intrigue in such a way that the
world won't be overrun by wars (and thus fall under the sway of
Tempus). His church is often beset by internal feuds and backstabbing,
but this conflict has decreased in recent years as Cyric has
gained better control of himself and has consolidated the churches
of the deities whose portfolios he took over.
Cyric's clerics pray for spells at night, after moonrise. Cyric's
church has few holy days and does not even celebrate the date of his
ascension to divinity. Whenever a temple acquires something (or
someone) important enough to sacrifice to Cyric, its high priest
declares a Day of the Dark Sun to signify the holiness of the event.
Eclipses are considered holy. They are accompanied by feasts, fervent
prayers, and bloody sacrifices. Cyric's clerics often multiclass as
rogues or assassins.
History/Relationships: Cyric arose as a deity during the Time of
Troubles. He was a mortal who assumed the portfolios of two deities
slain in the Godswar and who managed to slay two other deities and
then assume their portfolios. He hates most of the other deities of
Toril, but he particularly loathes Mystra (whom he knew as a
mortal and whose portfolio he desires), Kelemvor, and Bane (who
now holds portions of the portfolio once claimed by him).
Dogma: Death to all who oppose Cyric. Bow down before his
supreme power, and yield to him the blood of those that do not
believe in his supremacy. Fear and obey those in authority, but slay
those that are weak, of good persuasion, or false prophets. Bring
death to those that oppose Cyric's church or make peace, order, and
laws, for only Cyric is the true authority. Break not into open rebellion,
for marching armies move the false deities to action. Fell one
foe at a time and keep all folk afraid, uneasy, and in constant strife.
Any method or means is justified if it brings about the desired end.